Enginursday: ComSphere
Hello again, SparkFun community! Recently, as I've been continuing my trek into uncovering the realm of the unknown, I've been thinking about how to detect if paranormal events are happening when you are not present in a space while conducting an investigation. As these occurrences are subjective experiences, it makes it rather hard to validate the claims that something is actually happening. It escapes all logic, becomes irreproducible and, among the scientific community, can turn into an amusing story at best.
The ComSphere (aka Communication Sphere) recently became one of my many attempts to prove there is possibly something happening when we are not around that we can label as unexplainable. I mean, if I were a spirit, alien, cryptid or interdimensional being, and you were walking around in the dark asking me ridiculous questions and wanting me to move things around, it would be the quickest way to get me to leave. However, I might be slightly intrigued if you were to leave something behind. Let's start with a cool picture first. [Photo credits to SparkFun's amazing Juan Pena.]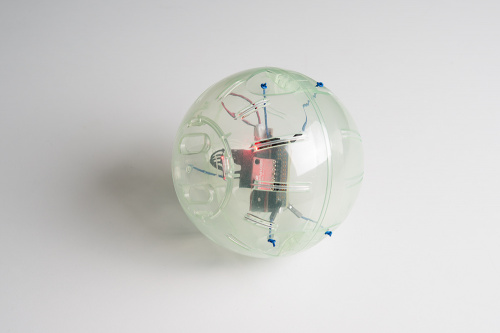 Before you ask me, I'm just going to come out and say it. Yes, that is, in fact, a hamster ball you see there. I actually picked this baby up on Amazon for just a few bucks. I was intrigued mostly because it glowed in the dark, but it seemed like the perfect enclosure for the small amount of electronics I was going to implement. In the future, I do plan on creating a neat little 3D-printed version of it.
So what the heck does it do?! In short, if something moves the ball, taps on it or throws it out a second-story window, I'll know about it no matter where I am in the world. (Well, as long as I have a WiFi connection.;)
Hardware
Minus the enclosure, the following list was all I really needed to implement my idea and suspend the electronics inside the center of the ball.
There are three main components that make up the ComSphere aside from the enclosure itself: (1) SparkFun ESP8266 Thing, (2) SparkFun Triple Axis Accelerometer Breakout – ADXL345 and (3) a Lithium Ion Battery.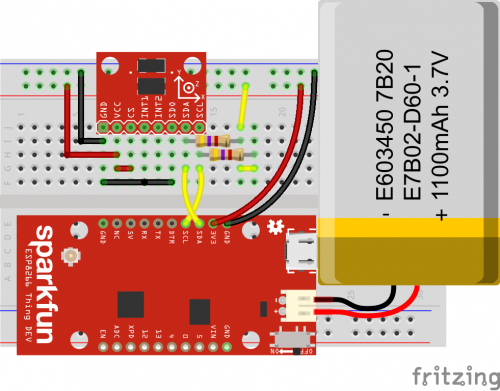 Having a hard time seeing the circuit? Click on the wiring diagram for a closer look.
The Build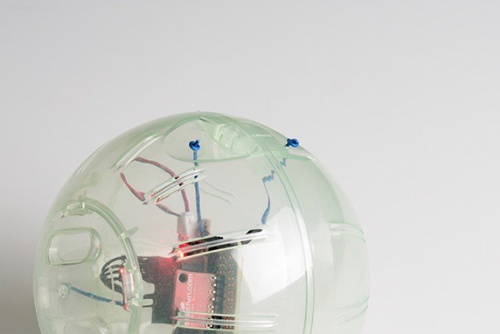 Small holes were drilled into the sides of the sphere where the three grooves on each hemisphere reside. This allowed me to tie a small wire going from the outside of the ball to the protoboard inside without interfering with the ball's rolling movement.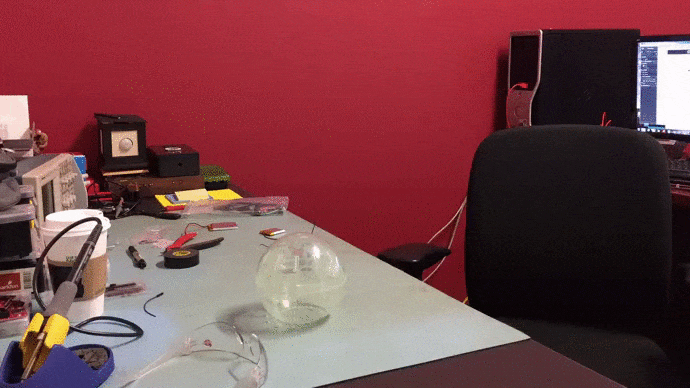 After the build I realized it actually wasn't really necessary to have a phosphorescent ball because the sphere itself looked pretty awesome with the red LED from the Thing glowing. Next step would be to create a proper 3D-printed enclosure for it.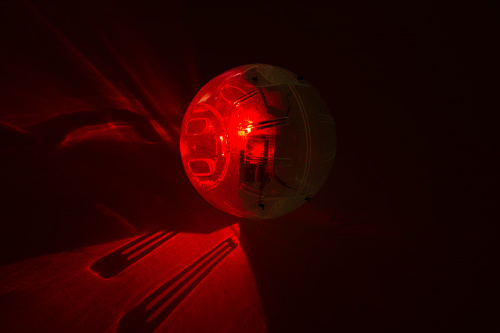 The Software
The SparkFun ESP8266 Thing is a breakout and development board for the ESP8266 WiFi SoC, integrating Internet of Things (IoT) or WiFi-related projects capable of utilizing the Arduino IDE. This project utilizes the capabilities of the Thing through programming WiFi access to either your home, business or mobile hub internet. For my investigation, I programmed my Thing with both the user name and password associated with my wireless hub. So now, how do I know if the ball has moved? Well, that's where one of my favorite little apps comes in handy: Blynk. I had an old smartphone lying around and installed the Blynk app (Android/iPhone) to handle communication between my ComSphere and the outside world. The ADXL345 Accelerometer handles the monitoring of motion and even has tap/double tap detection.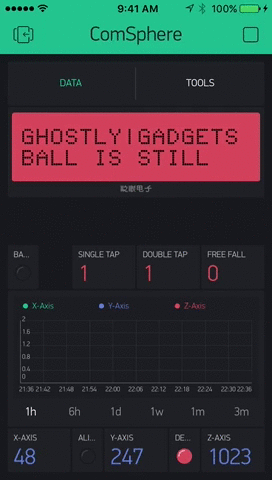 So if someone or something moves the ComSphere, not only will it notify my phone, but an email will be sent to my account.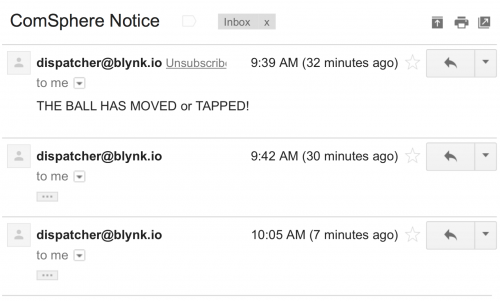 Final Thoughts
I'm not going to lie; I spent about 15 minutes in my office spinning the ComSphere and watching the video playback in slow motion. I had to share that with you before I left.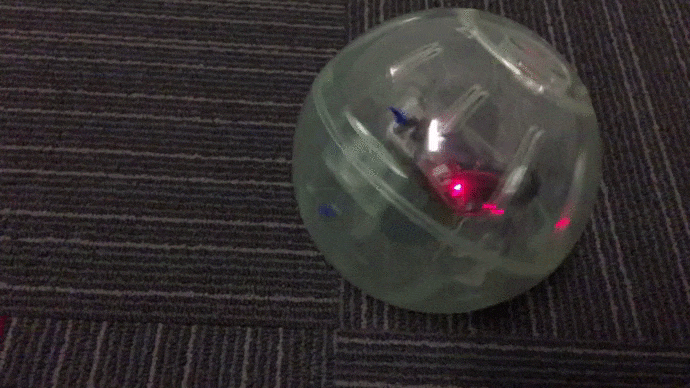 Have fun exploring other applications you could use with this setup, and please share your ideas in the comments below!
Resources