iPad Pro 2 release date, price and everything you need to know
Update: New rumors give insight into the 10.5-inch model we're hearing Apple might launch, as well as changes that could come to the Apple Pencil. We also have an idea of when the iPad Pro 2 might land, as the iOS 10.3 schedule is lining up for an March or April launch, and we all know Apple likes to debut new software with new hardware. Here's the latest. 

Apple launched its largest ever tablet in September 2015. The came with a huge 12.9-inch screen, supported the Apple Pencil stylus and packed a powerful processor – it was a big change to the iPad game.
We were big fans, giving it 4.5-stars in our full TechRadar review, praising the slate for its impressive front-facing speakers and great display among other things.
Then there was the , an replacement which came with a smaller screen, new True Tone technology and all of the features we'd already seen on the original iPad Pro.
But with 2017 now in full swing we need a new large-screen iPad, and the good news is it's possible we'll get one soon: the rumored device is likely to replace both Pro models and may come in a third size too. Here's everything we know so far about the iPad Pro 2.
Cut to the case
What is it? The next tablet from Apple
When is it out? March 2017 at the earliest
What will it cost? It'll be expensive. Expect $799 (£679, AU$1249)
iPad Pro 2 release date
The original iPad Pro is over a year old, but considering the iPad Pro 9.7 came out earlier in 2016 and demand for new tablets isn't high at the moment, it's no surprise we're going to be waiting longer for an iPad Pro 2.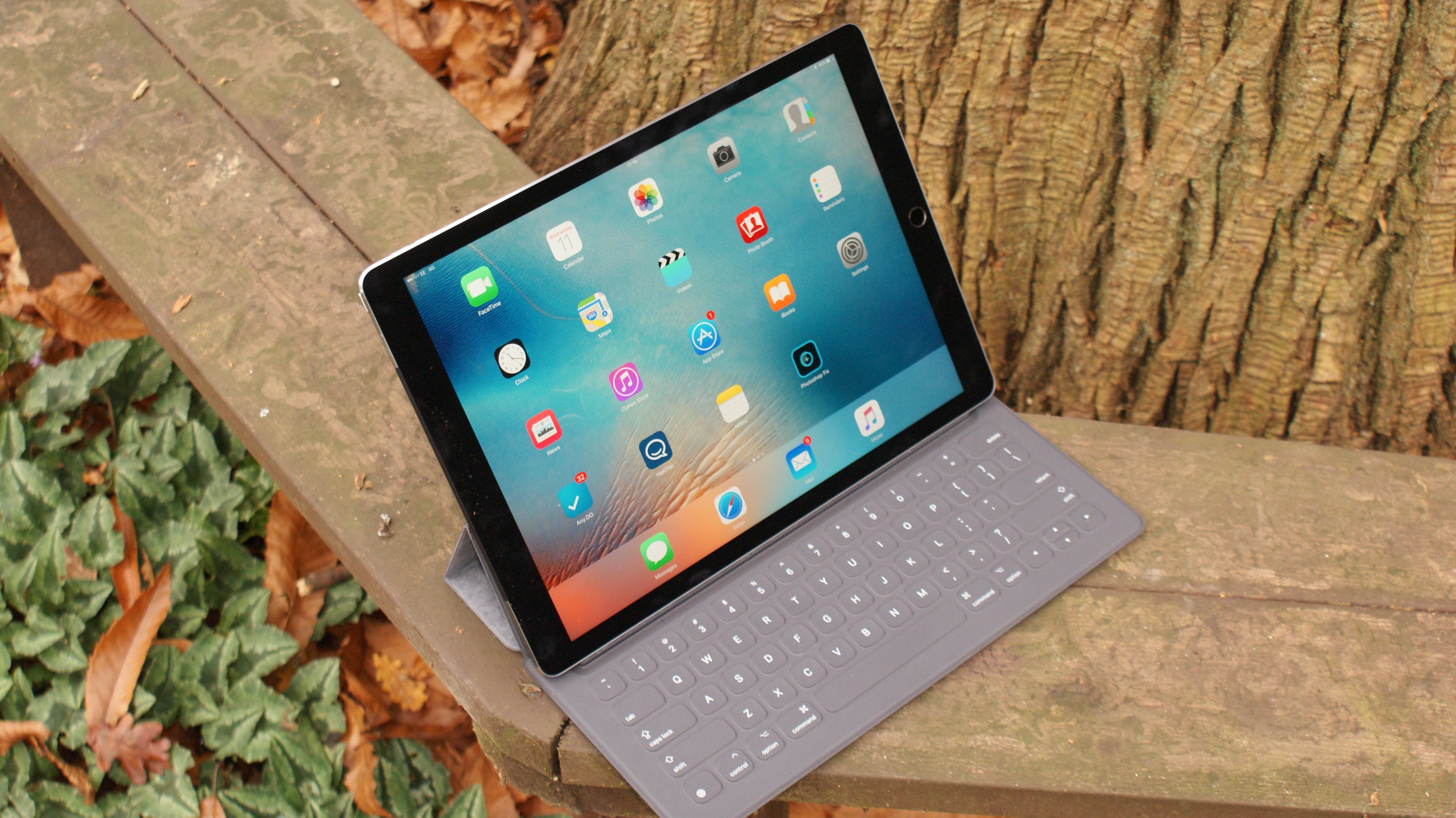 Based on previous releases an early 2017 launch around March is possible, but there's evidence that the slate may have been delayed, as TSMC – which is making the chips for it – has apparently seen lower than expected yields.
TechRadar's take: March 2017 is the earliest we'll see it, but don't be surprised if the iPad Pro 2 slips into the summer.
iPad Pro 2 price
There's no news on pricing yet, so we only have the original iPad Pro's pricing to go from. That starts at $599 (£499, AU$899) for the 9.7-inch model and $799 (£679, AU$1249) for the 12.9-inch one, so with pricing likely to be similar for the Pro 2 it certainly won't be easy on the wallet.
iPad Pro 2 design
Hottest leaks:
A slimmer, lighter slate
Water resistance
No headphone port
Not much is known about the iPad Pro 2 just yet – but leaked photos of a new Apple tablet have shown off what some believe to be the iPad Pro 2.
They came from a source working on the Chinese supply line – according to Apple Insider – and show off the tablet's screen with a model number of MH1Z2CD/F.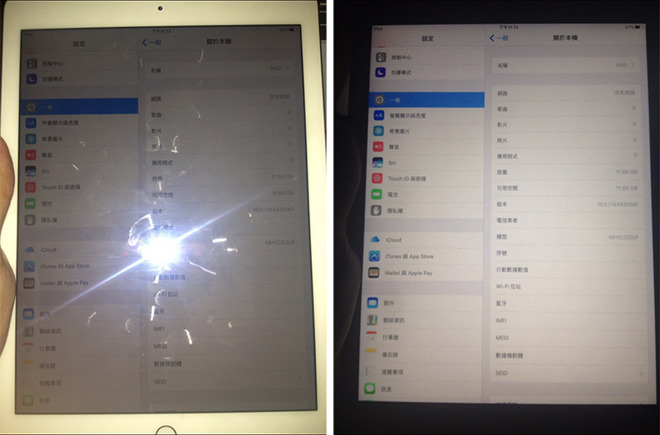 That number's not attached to any existing product, so it'd make sense for this to be the iPad Pro 2. The photos don't show off any specific changes though, so it may look just like the original iPad Pro tablet.
That wouldn't be a surprise, especially as Apple only just reinvented the iPad to some extent with the launch of the Pro range.
That said, there's a fair chance the company will try to make the new slates slimmer and lighter, as this is something Apple often does with new models and it could really benefit the larger model, as the iPad Pro 12.9 weighs a hefty 713g.
On the other hand, they could get thicker, albeit with a smaller overall footprint, as one leak claims a new 10.9-inch model will have the same length and width as the iPad Pro 9.7 but will be 7.5mm thick (where Apple's current flagship is just 6.1mm).
The same source says the iPad Pro 2 12.9 will get 3mm thicker, making it 9.9mm thick.
Apple removed the 3.5mm headphone jack from the iPhone 7, so this may be a change Apple brings over to the iPad range.
Apple may also make the iPad Pro 2 water and dust resistant, like the iPhone 7. While a tablet – which is typically used indoors – is arguably less in need of that protection it would still help defend it against spilled drinks.
TechRadar's take: We're not expecting big changes to the design of the iPad Pro 2, but it may well get slimmer and lighter, as well as borrowing some design cues from the iPhone 7.
iPad Pro 2 screen
Hottest leaks:
Three sizes
A True Tone display
A fingerprint scanner built into the screen
According to a research note from a respected analyst, the iPad Pro 2 will come in three different sizes. There'll be 12.9-inch and 9.7-inch models, just like with the original range, but there'll also apparently be a 10.5-inch version.
Recently we've heard additional details about that new size, including the fact that it will apparently be 2,224 x 1,668 in order to retain the same pixel density of 264 pixels per inch as the 9.7-inch model, and that despite having a larger screen it would have the same overall dimensions, by reducing the bezel.
However, a supply chain source has claimed that there'll be a 10.9-inch model (presumably instead of the rumored 10.5-inch one).
They add that the home button will be removed and the fingerprint scanner will be built into the screen, which would also mean a smaller bezel, apparently allowing Apple to fit the display into the same footprint as the 9.7-inch iPad Pro. If real, this is a feature that's likely to extend to the other size models too.
These leaks don't mention the resolution or any other details, but we can predict that all models of the iPad Pro 2 will come with a True Tone display, which debuted on the iPad Pro 9.7. True Tone allows your tablet to alter the screen's color temperature depending on the ambient lighting of where you use it, so you can see the image properly no matter what conditions you're in.
Apple rarely changes the resolution of its device's screens; in fact, it hasn't upped the 9.7-inch iPad's resolution since the iPad 3 in 2012. You could argue that it's due a jump by this point, but the 1536 x 2048 display doesn't feel lacking, so we expect the iPad Pro 2 9.7 will keep that resolution.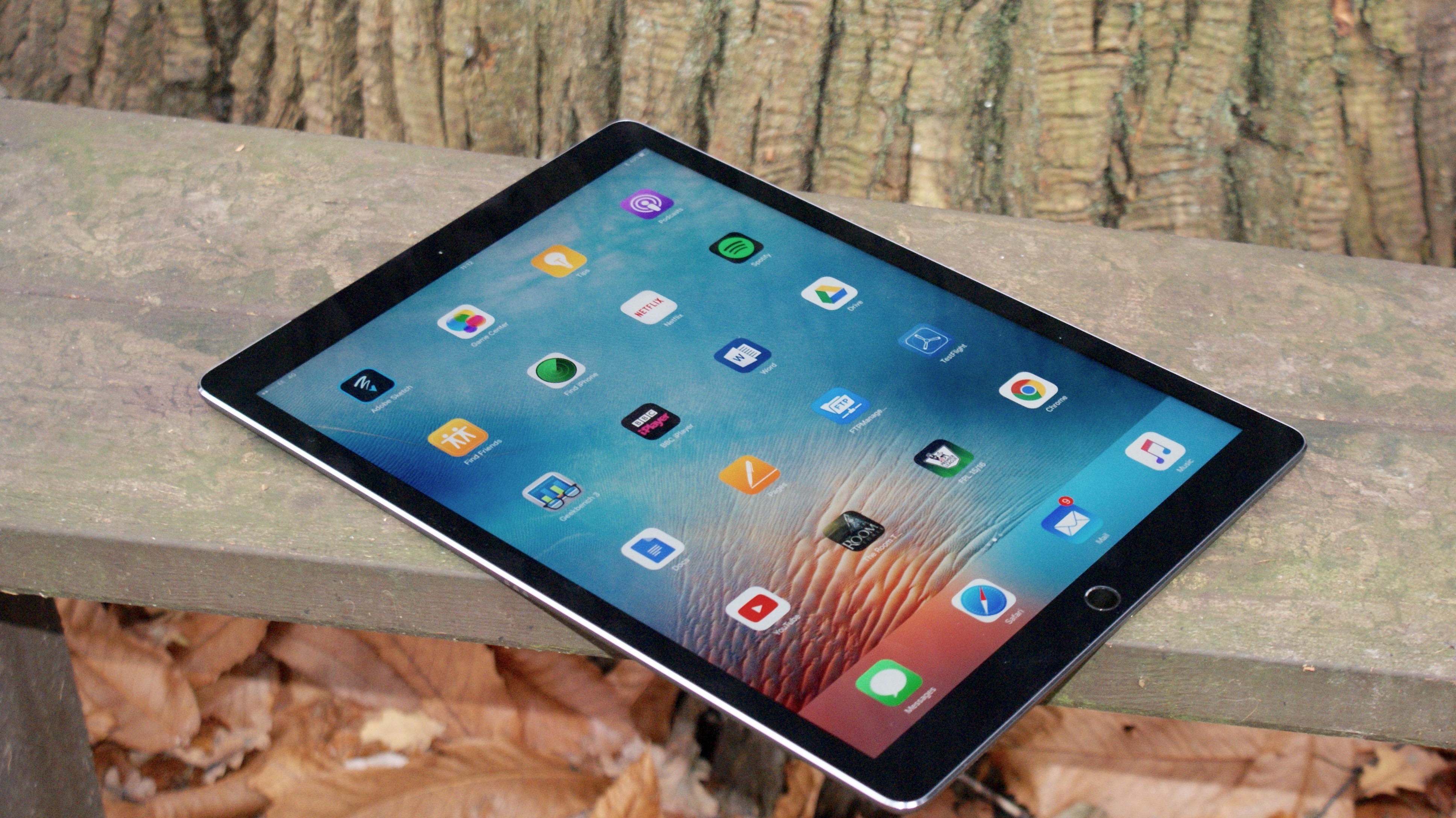 Similarly, the iPad Pro 2 12.9 will probably stay at 2048 x 2732 and the iPad Pro 2 10.5 or 10.9 – if it exists, which feels unlikely given it would be far too close to the 9.7-inch model in screen size – will presumably slot somewhere in the middle.
We'd expect to see some improvements to the display, but like the addition of True Tone on the iPad Pro 9.7 these are likely to be software tweaks or technology improvements, rather than an increased resolution.
One such improvement could be 3D Touch, which debuted on the iPhone 6S and iPhone 6S Plus. This essentially makes the screen pressure-sensitive, so a hard press on something will yield different results to a light one.
Bigger changes could come with the iPad Pro 3, likely in 2018, with talk of a curved AMOLED display.
TechRadar's take: The iPad Pro 2 12.9 is bound to have a True Tone display since the iPad Pro 9.7 does, and Apple is likely to improve and refine the screen too, but probably won't change the resolution, and a fingerprint scanner built into the screen sounds like a long shot.
iPad Pro 2 camera and battery
Hottest leaks:
The iPad Pro 9.7 has a 12MP rear camera and a 5MP front-facing one, so we'd expect at least that from the iPad Pro 2.
Chances are Apple won't change the megapixel count, as both cameras on the iPad Pro 9.7 are already an upgrade on the iPad Pro 12.9's snappers.
Although given that Apple stuck a larger lens on the iPhone 7 and a dual-lens on the iPhone 7 Plus it's possible that it will bring one of those to the iPad Pro 2.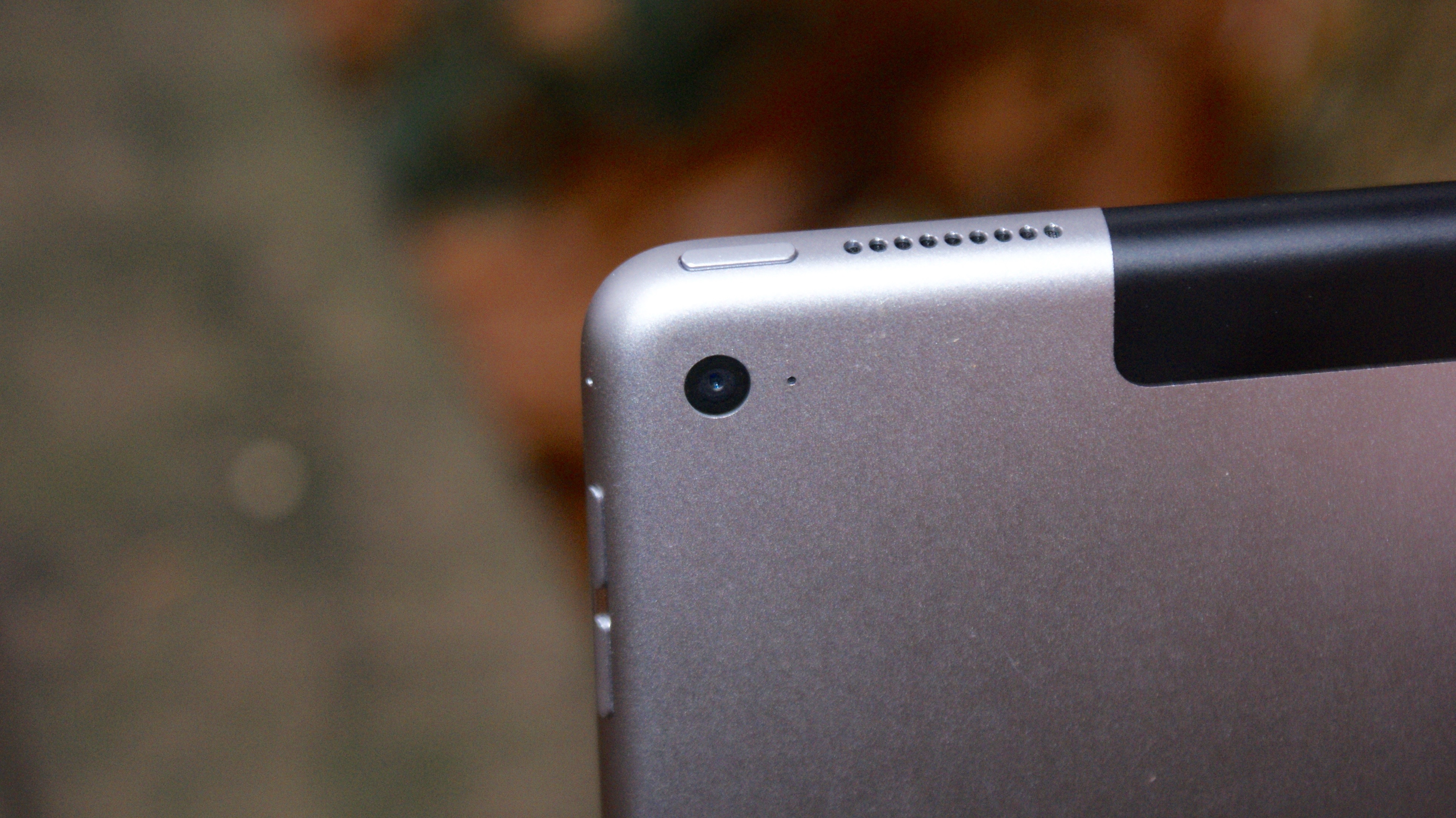 There's no news on what the battery size will be, and in any case it's likely to vary depending on which screen size you opt for.
TechRadar's take: The camera is often an afterthought on the iPad range – and rightly so. As such we don't expect big changes here, especially as Apple improved the camera for the iPad Pro 9.7, but a larger battery is likely.
iPad Pro 2 OS and power
Hottest leaks:
A powerful A10X processor
iOS 10
4GB of RAM
We'd fully expect the iPad Pro 2 will launch with iOS 10 – Apple's latest mobile operating system software upgrade. iOS 10 includes big improvements to Siri, the ability to live broadcast apps, a new look (and a lot less clutter) in the Control Center and more besides.
It wouldn't be a new iPad without a new processor and Apple is rumored to be sticking an A10X chip in the iPad Pro 2. A Geekbench leak suggests it'll be far more powerful than the original iPad Pro
It suggests it'll have a single-core score of 4236 and a multi-core score of 6588. By comparison the original iPad Pro had a multi-core score of 5472.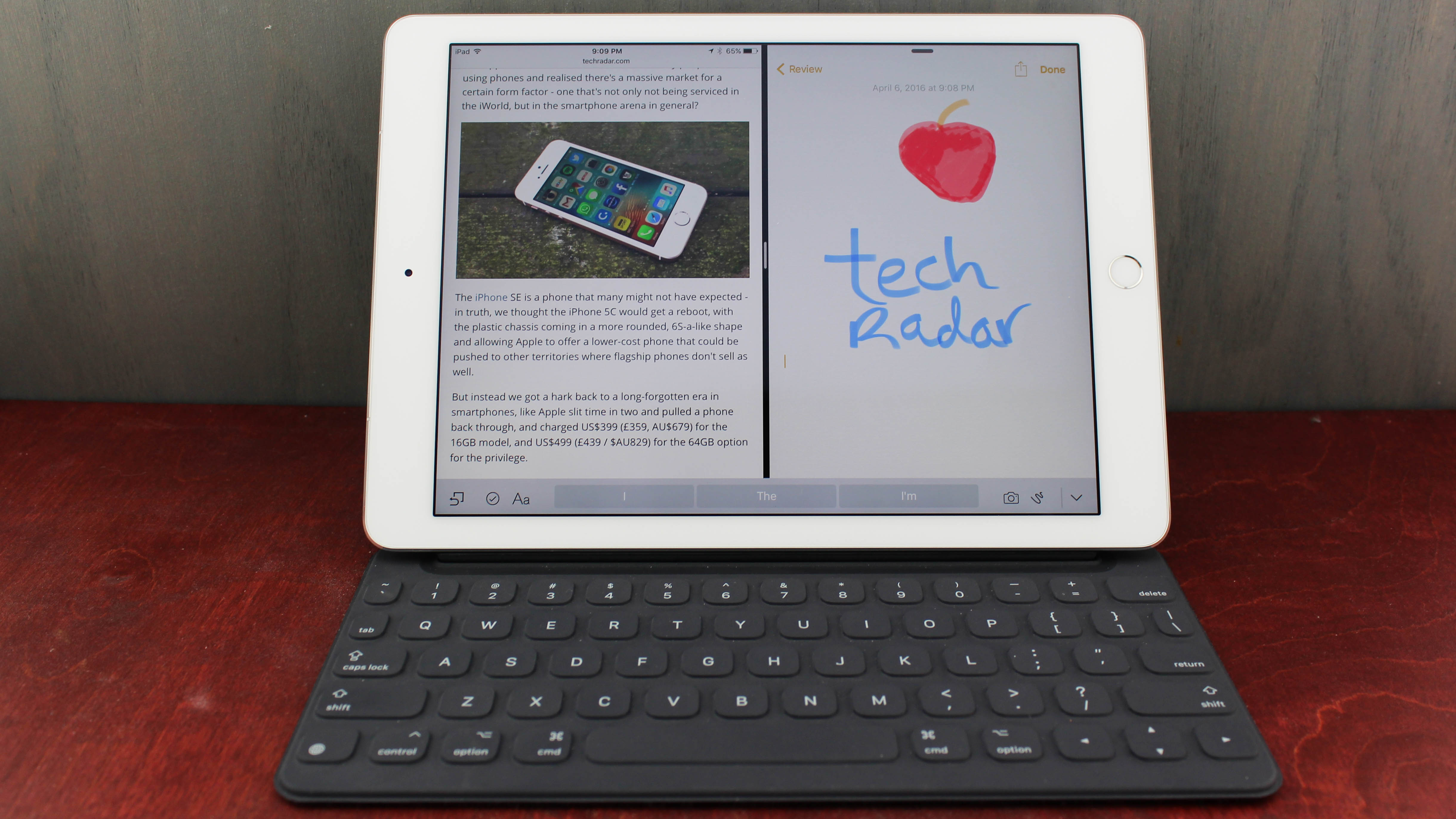 We could also see more RAM in the iPad Pro 2, or at least the 9.7-inch model. The iPad Pro 12.9 already has 4GB of RAM, but the iPad Pro 9.7 has just 2GB, so it would make sense for Apple to push the new model up in line with the 12.9-inch slate (and if we get a 10.5-inch model to equip that with 4GB of RAM too).
TechRadar's take: It's unlikely Apple will jump from two to six cores for the A10X chip, but it's bound to be very powerful all the same, and a sharp step forward in graphics processing especially. 4GB of RAM across the board would make sense and iOS 10 is all but guaranteed.
iPad Pro 2 other features
Hottest leaks:
A pressure-sensitive home button
Improved Apple Pencil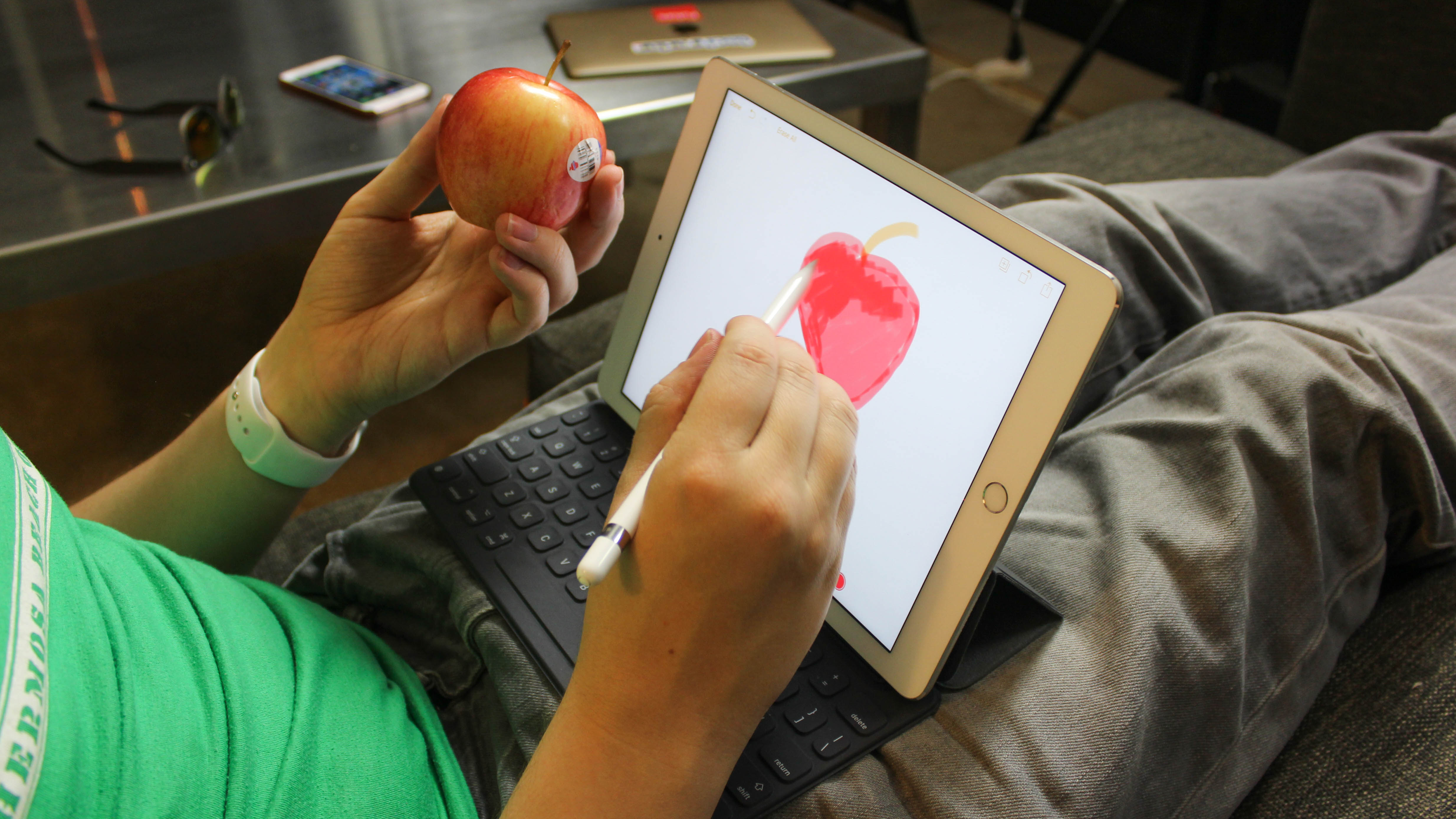 The Smart Connector is bound to make a return, giving users an easy way to connect keyboards and other accessories to the slate. The iPad Pro 2 will obviously support the Apple Pencil and there's every chance Apple will release new versions of the Apple Pencil and Smart Keyboard alongside it.
In fact, we've heard talk of ways in which the Apple Pencil might change, with the new version possibly having a magnet built in, so it sticks to your slate, and a clip on the side, so it doesn't roll away.
Beyond that we can look to the iPhone 7 for other possible features, such as a pressure-sensitive home button, which could vibrate rather than physically clicking and do different things depending on how hard you press it.
TechRadar's take: There's no way Apple will ditch the Smart Connector, as it's one of the iPad Pro's defining features. We're not convinced we'll get a pressure-sensitive home button though.
iPad Pro 2 rivals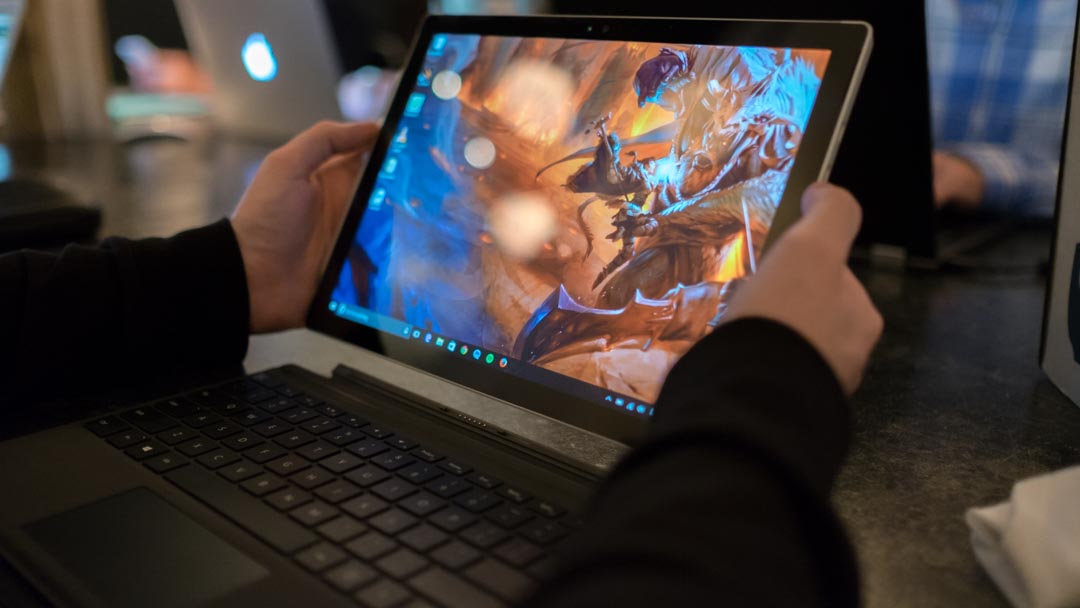 The iPad Pro 2, particularly in its larger sizes, is likely to be positioned as a laptop alternative, which means it will be competing with the Microsoft Surface Pro range, which is currently up to the Microsoft Surface Pro 4 and by spring 2017 should include the Microsoft Surface Pro 5.
These slates are powerful, expensive and support similar accessories, like a stylus and a keyboard. But they run Windows 10, which means an inferior app selection but a more laptop-like experience.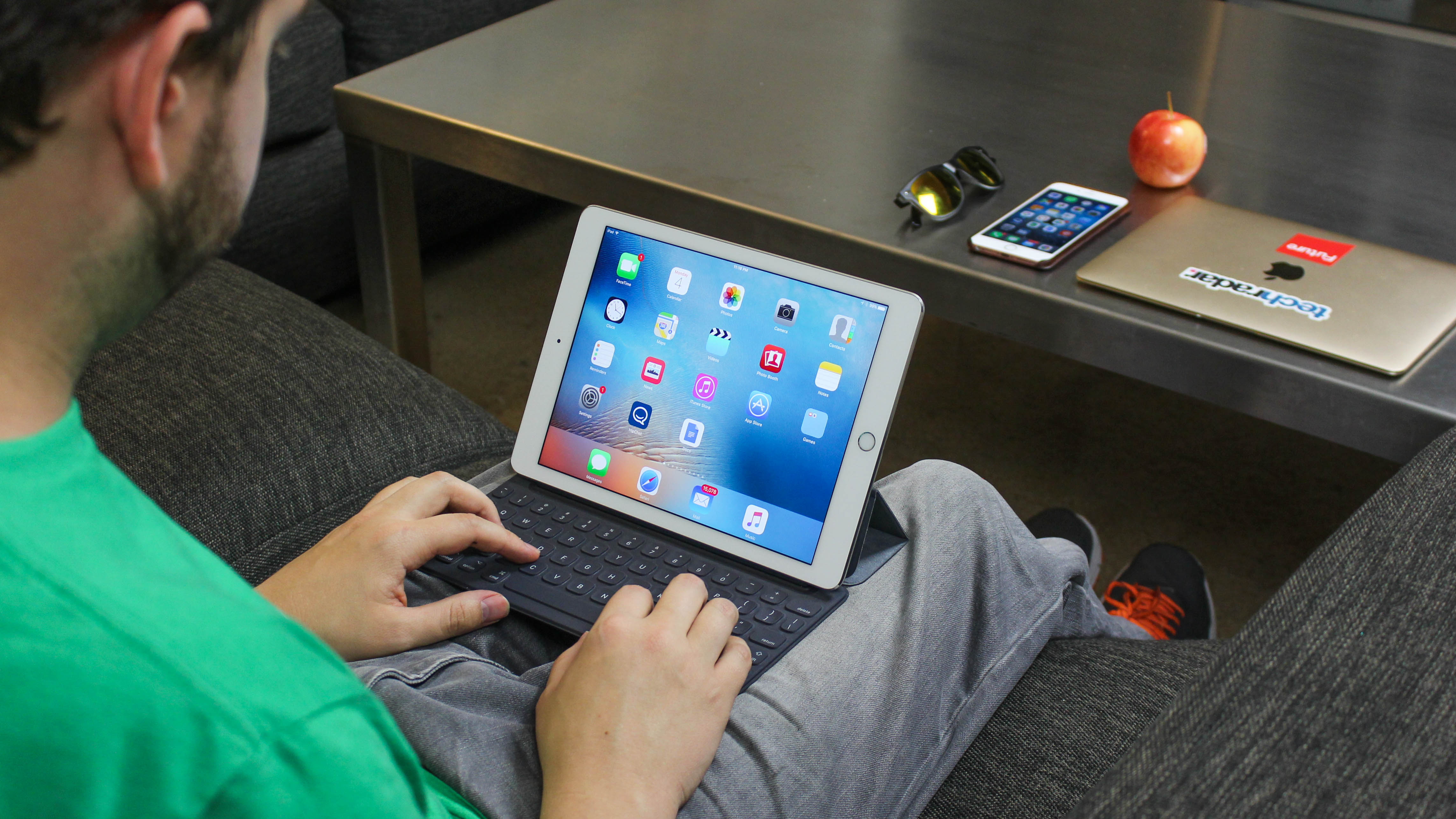 The original iPad Pro 12.9 and iPad Pro 9.7 will likely be rivals too, as they will probably stay on sale for a reduced price – and given the larger model especially still feels like it's got power oozing out the edges, it will remain an attractive option, especially if it becomes more affordable.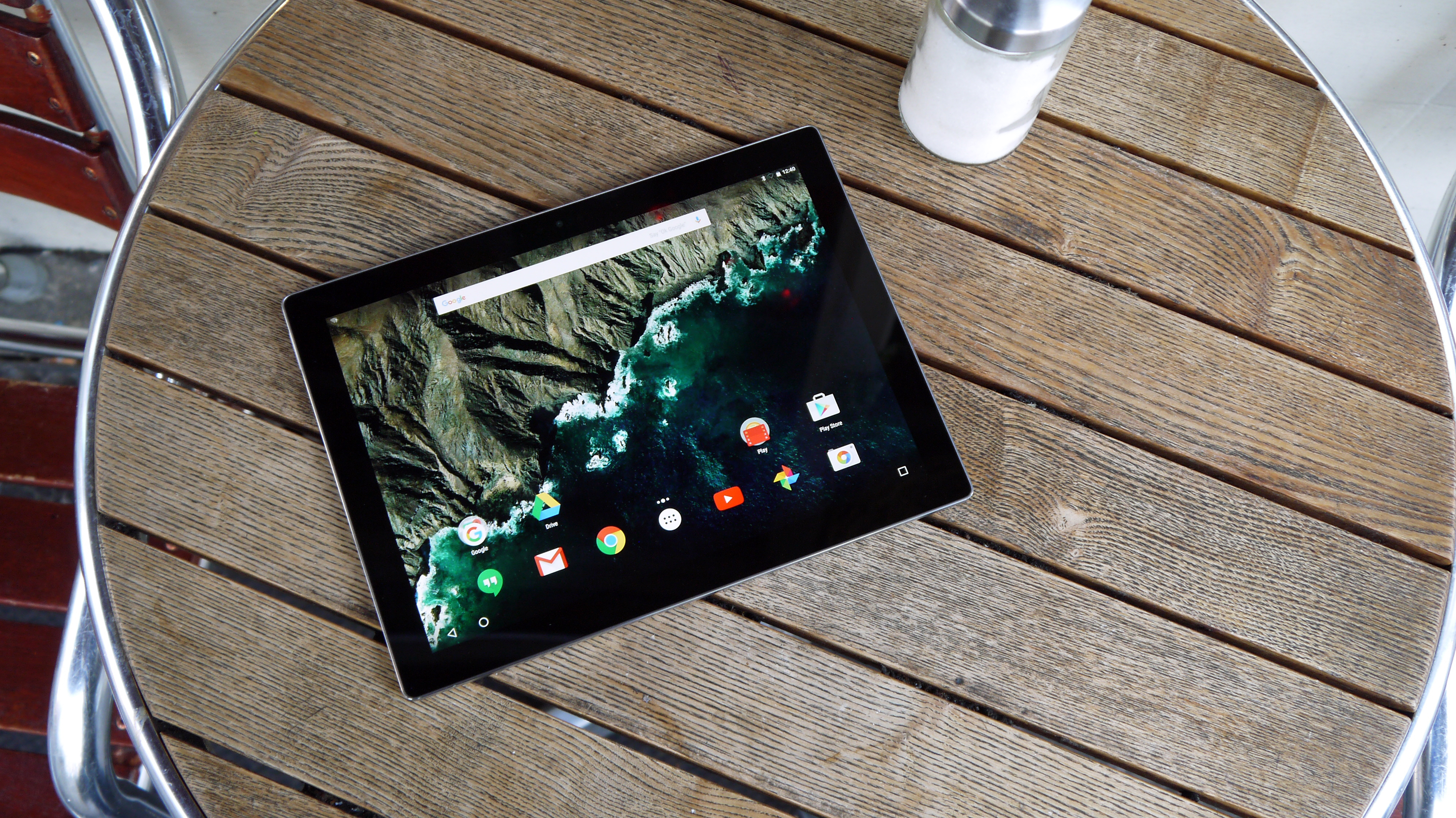 There's less direct competition from any Android slates, but despite getting on a bit the Google Pixel C could prove a tempting alternative, with its premium build, great screen and keyboard accessory – and we're expecting Google to come out with a decent upgrade soon too.
With so little known about the iPad Pro 2 we've run through some of the spec and design changes we'd most like to see on Apple's next slate.
1. Bigger battery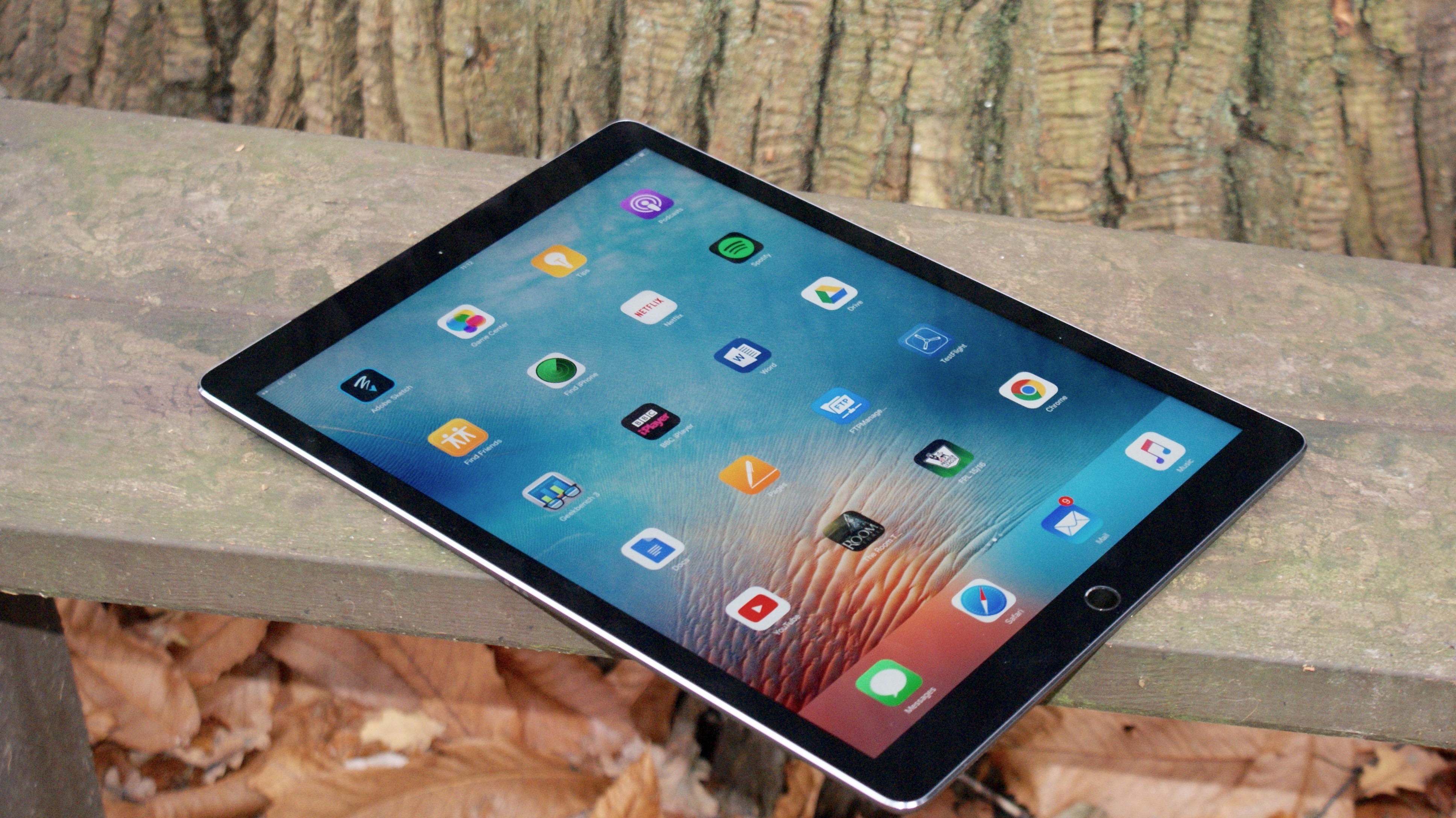 The original iPad Pro 12.9 came with a mammoth 10,307mAh battery, but we'd like to see it upgraded on the iPad Pro 2 to make the battery life even more impressive. With a powerful processor and a huge 12.9-inch screen to power the battery did drain quite quickly on the original tablet.
Fingers crossed Apple will put a big focus on the Pro 2's power optimization as well, to give us considerably better battery on the iPad Pro 2.
2. Free Pencil stylus
The Apple Pencil cost extra on top of the iPad Pro, so next time we'd like to see the Pencil 2 thrown into the box alongside the tablet. It's not usually Apple's style to offer accessories up for free, but the stylus is an essential part of the iPad Pro experience, so we'd like to see it included.
3. More storage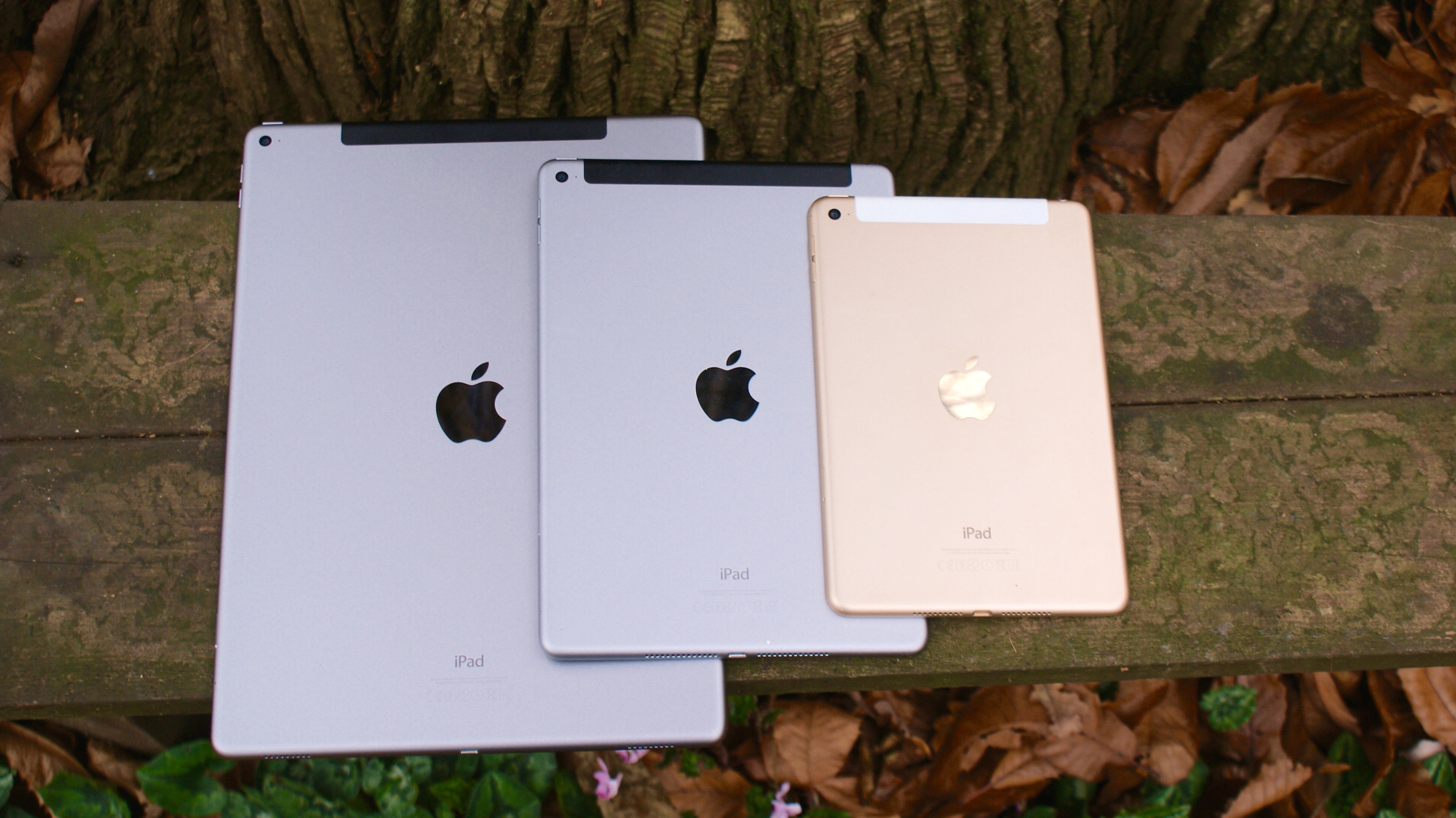 The iPad Pro already comes with up to 256GB of storage, but with no expandable memory and the positioning of the slate as a laptop replacement a version with even more storage would be great to see.
If Apple could up the top size to 512GB – ideally without upping the price – then there'd be plenty of room for all our apps, games and media.
4. Better front-facing camera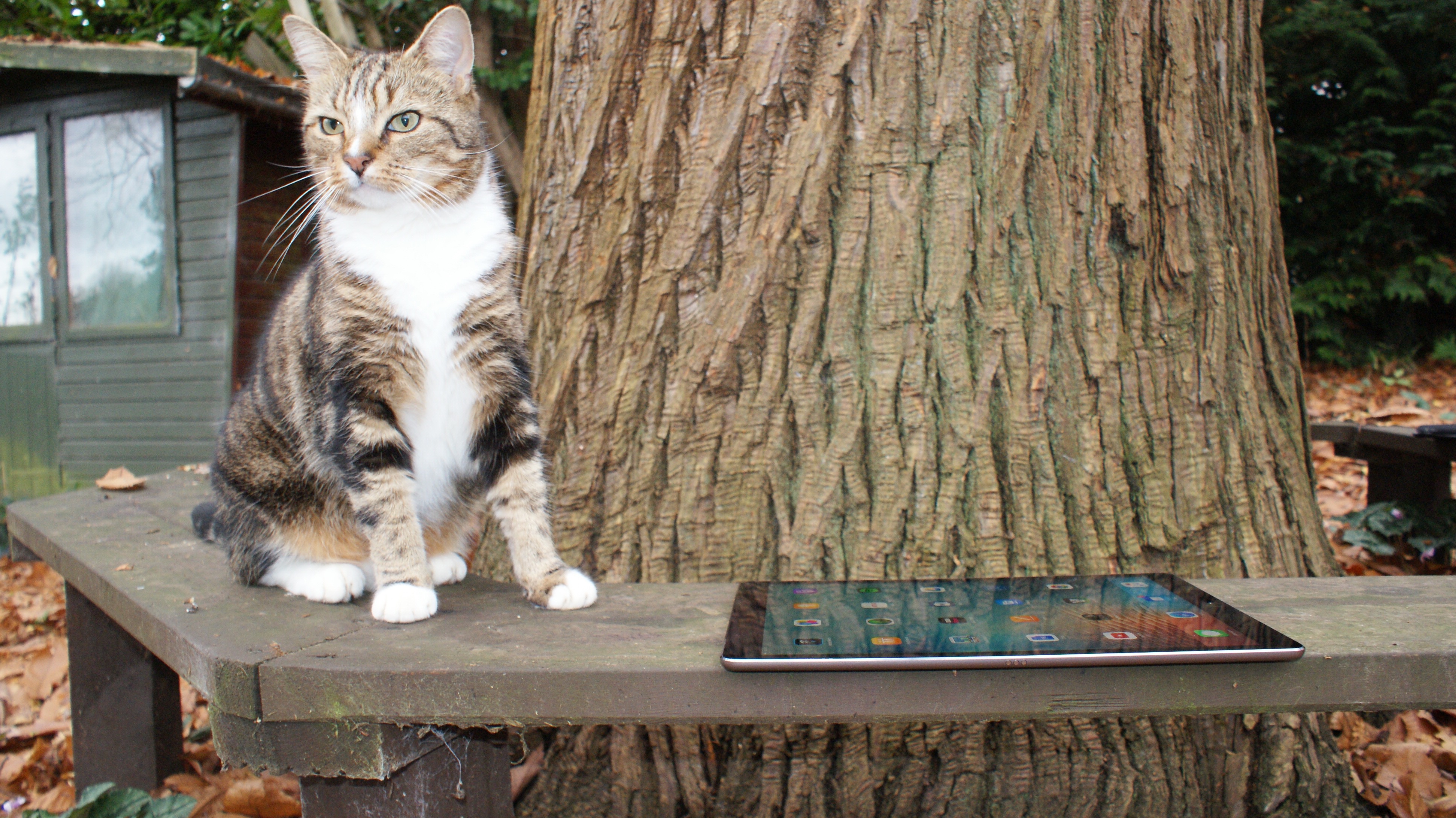 The front-facing camera is arguably the most important aspect of a tablet, as it can be used for video calls, so we'd like to see some improvements here and certainly hope the Pro 2 in all sizes at least gets a 5MP front-facing camera like the iPad Pro 9.7, rather than the 1.2MP snapper of the iPad Pro 12.9.
But ideally Apple will go further and equip the slate with a truly great front-facing camera, so we can make the most of video calling, as well as shooting selfies while lazing on the sofa.
5. Lighter build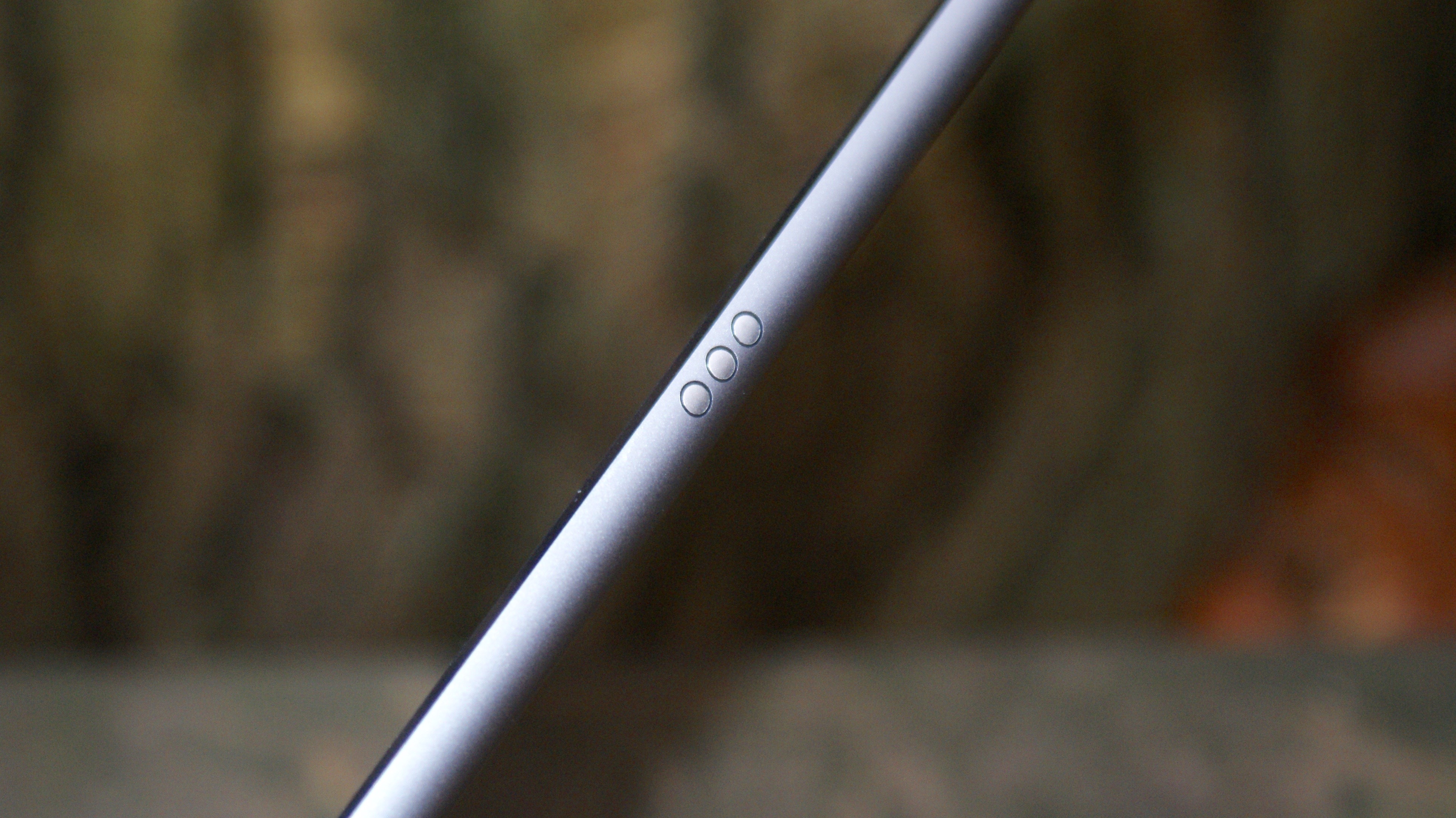 The iPad Pro is heavy, especially in its larger 12.9-inch size. Right now there's no obvious way to tackle that if you want a big tablet, but we'd like to see Apple shave off a little of the weight for the second generation. Whether that's possible for Apple though is a different story.